Newsletter
Stocks covered:
Compensation:
Avg $ Volume for Period:
DES

$17000

602875

Max Profit:

0.52 %

Gain at close:

0.52 %

March 30, 2011
Penny Stock Profile ....



Desmarais Energy Corp.

(TSX-Venture: DES)

For complete profile, CLICK HERE.

"Desmarais controls more than 30,000 acres of land located in the oil and gas-rich Alberta region of Canada and is one of the largest land owners in the Barrhead area. Just the undeveloped land owned by Desmarais has been valued in excess of $2 million and the Company has invested more than $3.5 million in property, infrastructure and seismic data."

Company Profile | Quote & News



V.DES PROFILE
The vast majority of people across the globe are aware of the catastrophic events that occurred in Japan a few short weeks ago with the record-size earthquakes and tsunami that has left the country reeling still to this date. While the safety of the citizens and rebuilding of the damage should always remain at the forefront of attention, there are many undertones that resonate across the investment community regarding several other issues with the future of the energy sector as a hot button issue presently. With the threat of nuclear meltdown still looming in Japan, the once booming nuclear power sector is now a topic of critics and breeding many discussions concerning anti-nuclear sentiment worldwide.

The tragic destruction in Japan has countries questioning nuclear power endeavors and once again looking for solutions to meet energy needs. Alternate energies certainly have their place, but are still struggling to gain global acceptance and in growing stages to develop infrastructure and accommodate lower pricing structures to increase viability. Fossil fuels are once again back in focus as "the old reliable" with natural gas and oil prices back on the rise. In fact, in a recent interview on recent global events with Advisor One, Kenneth Fisher of Forbes explained, "society will be hostile toward nuclear and utilities for a good long time. Everyone will be forced back to fossil fuels."

Even with the shift in trend ongoing to strive for cleaner and greener technologies, natural gas fits into that picture. Methane burns much cleaner and releases less carbon dioxide than other fuels, especially coal. Recent developments in technology should result in the cost of a British thermal unit (Btu) coming down in cost which bodes even better for suppliers as increased demand will offset any decrease in pricing. This goes without mentioning that natural gas is in abundance within the earth's ground and advancements in extracting it, such as with new fracking technologies, will lower costs for energy companies as well.

In the meantime, natural gas prices continue to climb, hitting near two-month highs in trading last week as April contracts touched as high as $4.475 per million Btu's. On the week, natural gas for April delivery prices rose by 5.6% over the previous week. Due to unseasonably cold temperatures, analysts are calling for continued upward movement at this time resulting from pressures that supply will outpace demand with the end of winter's heating needs.

All things oil, including passage routes and supply loads, are in the headlines virtually daily as a result of the turmoil throughout Libya and the Middle East. It was only a few months ago that OPEC leaders were stating that oil was going to surpass $100 per barrel and the international catalysts came quickly which slingshot the price well past the forecast, but still keeping them more than 25 percent lower than all-time highs. While Moammar Khadafy and his faithful may be losing the battle in Libya as Allied airstrikes are helping rebels continue to make advancements and retake key oil facilities, oil prices are still holding above the 100 dollar level further supporting the idea that $100 oil is here to stay.

Oil demand is high, but supply is still keeping pace. The important thing to note is that we are still not near peak oil consumption, which was hit in August 2005 at 21.7 million barrels per day. Present usage is still 9% below that and could very well see another surge to take it back to those levels. That combined with a constant effort for North America to slow reliance of oil from the Middle East and Libya could directly impact the amount of oil required extracted from soil in the United States and Canada.

Further validating the pressure to decrease reliance on foreign oil, the Associated Press released an article yesterday detailing a soon-to-be released report from the U.S. Department of the Interior commenting on the fact that more than two-thirds of offshore leases in the Gulf of Mexico are sitting idle and not being actively explored by the leaseholders. According to the article, "President Barack Obama ordered the report earlier this month amid pressure to curb rising gasoline prices following the instability in the oil-rich Middle East." This sort of activity is likely to benefit energy companies in both Canada and the United States as it once again shows the commitment to produce more oil and gas domestically.

From virtually all perspectives (and in the words of the U.S. Energy Information Administration), oil and natural gas demand is expected to remain strong for the foreseeable future. Renewable energies may be gaining some traction, but, even with government incentives, they currently supply less than 8 percent of U.S. energy needs while oil and natural gas supply in excess of 60 percent. The bottom line is that they are the low-cost energy sources and will remain dominant for many years to come. Experts seem to agree as predictions for the year 2035 anticipate that oil and natural gas will still supply more than 50 percent of our energy needs.

As a result of these factors, investors will continue to flock to oil and natural gas plays as the overseas scares are starting to diminish and prices are remaining firm. As far as developmental companies, few are well-positioned to capitalize in both immediate and long term capacities. Savvy investors look for juniors that have strong leadership, producing wells, portfolios that contain sufficient land to support addition drills and the corporate structure to make it happen. Calgary, Alberta-based Desmarais Energy Corp. (TSX-Venture:DES) is an oil and gas exploration company that possesses all of these attributes to facilitate near-term revenues and long-term expansion. Desmarais is focused on exploration, development, production, and acquisition of oil and gas reserves in western Canada with a primary concentration in southeast and west central Alberta with a concentration on medium depth gas targets within the Western Canadian Sedimentary Basin.

The Company has a significant portfolio of shallow to medium depth exploration and development plays combined with deeper gas targets. Most recent success was a new pool oil well with at least two follow up development locations supported by 3-D seismic control. To date, Desmarais has invested more than $3.5 million dollars in it properties, infrastructure and seismic data.

Desmarais is a controlling force in the Barrhead area of West Central Alberta where it operates nearly 40 sections of prospective lands and approximately 25 kilometers of pipelines. The Company maintains an inventory of 3D and 2D seismic control on a variety of gas and oil prospects in this core area and has 22.3 net sections (14,280 net acres) of undeveloped land making it one of the largest land owners in the Barrhead area with multi-zone oil and gas potential from six formations. Further, Desmarais holds a 100% interest in 1600 acres of undeveloped lands in southeast Alberta where a four to six well drilling program is scheduled for the third quarter of 2011. High impact gas prospects on more than 3,336 net operated hectares (8,300 net acres) of undeveloped land owned by Desmarais have been independently evaluated at nearly $2 million.

Desmarais has a current inventory of 8 wells which are shut-in awaiting further evaluation and will be placed online in a timely fashion, six of them from a recent acquisition. Seven of these wells are equipped and tied-in to Company-controlled infrastructure. Clearly, the Company has the resources at it hands to produce substantial amounts of oil and natural gas in the short-term.

The Company has operations currently producing both gas and oil with the ratio weighted at 74% in favor of natural gas presently, but recent developments, two new oil pool discoveries and scheduled accelerated drilling efforts, are anticipated to bring the oil/natural gas ratio closer to a 50/50 balance for production and revenues.

Current production is approximately 50 boepd (26% oil) with production 71% Desmarais-operated with varying working interests averaging 34% in 27 wells. With the current operations and ongoing successful exploration programs, management believes it is on target to meet its goals for a production base of 500+ boed in the near future with potential reserves of 900+ Mboe (thousands of barrels of oil equivalent). Current reserves, adjusted for 2010 production and dispositions, are 380 Mboe of Proved and Probable reserves.

Desmarais latest financials also show forward movement; indeed a rarity for junior explorers. Revenues increased throughout 2010 with a twenty percent rise reported for the quarter ending September 30th by jumping up to $138,745. As of that date, yearly revenues had increased to $374,785; representing a solid 37 percent growth as compared to the year prior. At the same time, the Company slashed operating costs by 22 percent to $20.46 per BOE in the third quarter and a reduction of 24 percent to $24.71 per BOE for the first nine months of 2010 as compared to 2009.

When developments are aligning properly the way that they are for Desmarais, it is typically reflective of a strong management team. The Company has a world-class team at the helm that has been responsible for drilling and completion of more than two thousand wells during their careers in the oil and gas industry. Each member of management has more than three decades of experience individually with both Majors and Juniors. Founder, Chief Executive Officer and President, James G. Long is a Professional Geologist with nearly forty years' experience, particularly in the same area where it has established its strong foothold presently in west-central Alberta and the foothills of Alberta and British Columbia.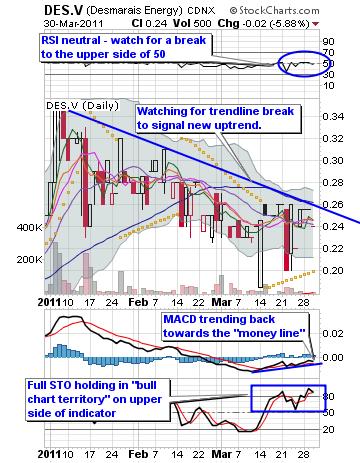 Technically speaking, the V.DES chart is in a bit of a slide since a climb that began last October that saw the share price climb from 8 cents to peak at 35 cents in January 2011. The share price is holding the vast majority of the gains with today's price closing at 24 cents on very light volume. Volume has been trickling off over the last three months indicating that sellers who were taking profits since the big move may be running out of shares, so technical traders will now have a close eye on buying pressure to come back in and break the trendline on increased volume. Support is established at 23 cents with only three dips below that promptly resulted in buying bringing the price per share back above that level. Also notable is the fact the chart is still holding over the 200 day simple moving average, which is widely regarded as an important feature in an uptrending, bullish chart in the grand scheme of things.

The indicators are primarily holding their ground in "bull chart territory," as reflected in the Full Stochastics holding in excess of 80, but carrying a bit of neutral undertones which will stay intact until the price can pop back through resistance at 26 cents. The Relative Strength Index (RSI), a commonly used momentum indicator, is registering a reading right in the area of 50 and will be watched closely for a break north through 50 to show upward momentum re-entering the play. Long-term indicators such as the Moving Average Convergence/Divergence have broken their downtrend and have begun to climb back towards zero. This, too will be on close watch as history has shown that a break through to the upper side of zero typically leads to strong price per share movement and an upward trend. As always, this is only AllPennyStocks.com's assessment of the V.DES technical chart and we strongly encourage all investors to perform their own due diligence and consult with a financial advisor prior to making any trades.

The Company announced after the bell on March 30th that they have received their year-end reserve evaluation and the figures were quite good. Total proved reserves came in at 169,270 barrels of oil equivalent, representing an increase of 40 per cent over December 31, 2009, while total proved plus probable reserves were 380,400 barrels of oil equivalent representing an increase of 13 per cent over December 31, 2009. The NPV of the company's proved plus probable reserves, before income taxes and discounted at 10 per cent, is $5.47 million representing an increase of 48 per cent over December 31, 2009. In a nutshell, the Company is sitting on lots of oil & gas, and this reserve evaluation only further proves the potential. The late day announcement may prove to be the catalyst for the stock to try and break the trendline as seen in the above technical chart when investors react to this announcement tomorrow morning.

With a market cap in the area of $6 million and what could amount to an exponential increase in production in the short-term, Desmarais has room for upward movement given the state of the oil and gas landscape as mentioned above. Unlike so many juniors, the share structure is completely intact with only 27 million shares outstanding. The word "undervalued" is tossed around in the investment community far too often, but Desmarais is one company that certainly could fit that billing if business strategies can hold their course. Operations are intact and producing. With thousands of acres of undeveloped lands, seismic control and company-owned infrastructure, and a number of well locations in the Desmarais portfolio (both oil and gas targets), we see this Corporation poised to realize on their goals. It is for these reasons and for the ones described above that we have turned to Desmarais Energy Corp. (TSX-Venture:DES) as our latest Canadian spotlight and encourage investors to do their own due diligence on the Company and add it to their watch lists.
As always, more information on Desmarais Energy Corp., (TSX-Venture:DES) can be found by going to the full DES profile at AllPennyStocks.com or by clicking here.
INVESTMENT HIGHLIGHTS
Prime Industry. Oil and natural gas continue to hold high levels and are projected by experts to continue to be dominant energies for many years to come. Reliance on foreign only is expected to decline opening the door to North American energy companies.
Expansion Capacity. In one of its' core areas, Desmarais owns over 14,000 net acres of highly perspective land offsetting several oil pools which have cumulative production of more than 35 million barrels of oil. Two recent oil discoveries completed by Desmarais have lead to new interpretation of the Company's proprietary 3D seismic to target follow up to these discoveries. The Company also has 8 shut-in gas wells to further evaluate and tie-in to existing Desmarais-operated infrastructure.
Producing Wells. Desmarais wells are currently producing 50 BOEPD and generating significant revenues month over month for the Company. With the current operations and ongoing successful exploration programs, management believes it is on target to meet its goals for a production base of 500+ boed in the near future with potential reserves of 900+ Mboe (thousands of barrels of oil equivalent). Current reserves, adjusted for 2010 production and dispositions, are 380Mboe of Proved and Probable reserves.
Controlled Finances. Through September 31, 2010, as compared to the same periods in 2009, Desmarais increased revenues for the quarter by 20% and by 37 percent for the first nine months of 2010 while cutting operating costs for the nine months by 24 percent.
Management. Desmarais is led by highly-experienced leaders that have been responsible for drilling and completion of more than 2,000 wells for both major and junior oil and gas organizations.
OVERVIEW
Desmarais is a junior oil and gas exploration and production company primarily focused in West Central and South East Alberta. The Company has a balanced portfolio of shallow to medium depth exploration and development plays combined with deeper gas targets. Most recent success was a new pool oil well with at least two follow up development locations supported by 3-D seismic control. More than $3.5 million has been invested in lands, infrastructure and seismic.

Corporate Information

Exchange: TSX-Venture
Market Cap: 6.5 Million
Outstanding Shares: 27.0 Million
Price: $0.24
52 Week Low / High: $0.075 / $0.35
Information As Of March 30, 2011




Useful Profile Links

Corporate Information

Recent News & Press Releases

Management Team

Contact Information




Forward Looking Statements

This report includes forward-looking statements that reflect Desmarais Energy Corp. current expectations about its future results, performance, prospects and opportunities. Desmarais Energy Corp. has tried to identify these forward-looking statements by using words and phrases such as "may," "will," "expects," "anticipates," "believes," "intends," "estimates," "plan," "should," "typical," "preliminary," "we are confident" or similar expressions. These forward-looking statements are based on information currently available and are subject to a number of risks, uncertainties and other factors that could cause Desmarais Energy Corp.'s actual results, performance, prospects or opportunities to differ materially from those expressed in, or implied by, these forward-looking statements. These risks, uncertainties and other factors include, without limitation, the Company's growth expectations and ongoing funding requirements, and specifically, the Company's growth prospects with scalable customers, and those outlined above. Other risks include the Company's limited operating history, the Company's history of operating losses, consumers' acceptance, the Company's use of licensed technologies, risk of increased competition, the potential need for additional financing, the terms and conditions of any financing that is consummated, the limited trading market for the Company's securities, the possible volatility of the Company's stock price, the concentration of ownership, and the potential fluctuation in the Company's operating results.

Disclaimer

AllPennyStocks.com feature stock reports are intended to be stock ideas, NOT recommendations. Please do your own research before investing. It is crucial that you at least look at current SEC filings and read the latest press releases. Information contained in this report was extracted from current documents filed with the SEC, the company web site and other publicly available sources deemed reliable. For more information see our disclaimer section, a link of which can be found on our web site. This document contains forward-looking statements, particularly as related to the business plans of the Company, within the meaning of Section 27A of the Securities Act of 1933 and Sections 21E of the Securities Exchange Act of 1934, and are subject to the safe harbor created by these sections. Actual results may differ materially from the Company's expectations and estimates. This is an advertisement for Desmarais Energy Corp. The purpose of this advertisement, like any advertising, is to provide coverage and awareness for the company. The information provided in this advertisement is not intended for distribution to, or use by, any person or entity in any jurisdiction or country where such distribution or use would be contrary to law or regulation or which would subject us to any registration requirement within such jurisdiction or country.

© 1999-2011 AllPennyStocks.com. All rights reserved. AllPennyStocks.com is not a Registered Broker/Dealer or Financial Advisor, nor do we hold ourselves out to be. All materials presented on our web site and individual reports released to the public through this web site, e-mail or any other means of transmission are not to be regarded as investment advice and are only for informative purposes. Before making a purchase or sale of any securities featured on our web site or mentioned in our reports, we strongly encourage and recommend consultation with a registered securities representative. This is not to be construed as a solicitation or recommendation to buy or sell securities. As with any stock, companies we select to profile involve a degree of investment risk and volatility. Particularly Small-Caps and OTC-BB stocks. All investors are cautioned that they may lose all or a portion of their investment if they decide to make a purchase in any of our profiled companies. Past performance of our profiled stocks is not indicative of future results. The accuracy or completeness of the information on our web site or within our reports is only as reliable as the sources they were obtained from. The profile and opinions expressed herein are expressed as of the date the profile is posted on site and are subject to change without notice. No investor should assume that reliance on the views, opinions or recommendations contained herein will produce profitable results. AllPennyStocks.com may hold positions in securities mentioned herein, and may make purchases or sales in such securities featured on our web site or within our reports. In order to be in full compliance with the Securities Act of 1933, Section 17(b), AllPennyStocks.com will disclose in it's disclaimer, what, if any compensation was received for our efforts in researching, presenting and disseminating this information to our subscriber database and featuring the report on the AllPennyStocks.com web site. AllPennyStocks.com has been compensated seven thousand five hundred dollars in May 2010, seventeen thousand dollars in November 2010 and another seventeen thousand dollars in March 2011 by the Company for its efforts in presenting the DES profile on its web site and distributing it to its database of subscribers as well as other services. AllPennyStocks.com may decide to purchase or sell shares on a voluntary basis in the open market before, during or after the profiling period of this report. As of the profile date, no shares have been sold. Information presented on our web site and within our reports contain "forward looking statements" within the meaning of Section 27A of the Securities Act of 1933 and Section 21E of the Securities Exchange Act of 1934. Any statements that express or involve discussions with respect to predictions, expectations, beliefs, plans, projections, objectives, goals, assumptions or future events or performance are not statements of historical fact and may be "forward looking statements." Forward looking statements are based on expectations, estimates and projections at the time the statements are made that involve a number of risks and uncertainties which could cause actual results or events to differ materially from those presently anticipated. Forward looking statements in this action may be identified through the use of words such as "expects'", "will," "anticipates," "estimates, "believes," or that by statements indicating certain actions "may," "could," or "might" occur.

THE READER SHOULD VERIFY ALL CLAIMS AND DO THEIR OWN DUE DILIGENCE BEFORE INVESTING IN ANY SECURITIES MENTIONED. INVESTING IN SMALL CAP SECURITIES IS SPECULATIVE AND CARRIES A HIGH DEGREE OF RISK.

We encourage our readers to invest carefully and read the investor information available at the web sites of the Securities and Exchange Commission (SEC) at: http://www.sec.gov and/or the National Association of Securities Dealers (NASD) at: http://www.nasd.com. Readers can review all public filings by companies at the SEC's EDGAR page. The NASD has published information on how to invest carefully at its web site.